About Ruky

Ruky Projects is a next generation infrastructure Project Management Support firm first of its kind in India. The business objective of Ruky is to provide the much needed value added project support to the construction industry.

The company is promoted and managed by professionals about 25 years of experience in the field of design, execution and monitoring of infrastructure projects. RUKY's project management expertise comes into play at touch points of the Project Life Cycle touching upon, pre-investment phase, design, construction phase, pre and post closeout stage through its, professional operation management, initiation and support.

We provide one stop solution for all projects related to project management, contract management, value engineering, cost & time control, quantity survey expertise in pre and post tendering advisory services. With trustworthy credentials in executing complex and demanding projects in all kinds of situations, Ruky Projects has innate abilities to help clients persistently deliver projects on time and with uppermost and profitability.


Ruky's Smart Service Approach ensures

Optimal & tangible outcomes


Value addition


Understanding all stakeholder demands - Project Owners, contractors, project consultants, Local community etc
Why Ruky?
Among the perennial challenges being faced by infrastructure companies is shortage of skilled technical team with experience in managing projects. Many companies attempt to fill this vacuum by recruiting skilled manpower - an endeavor with inherent risks related to getting the right manpower as well as high attrition rates which in turn make the company lose out on time and resources. A plethora of other challenges which are causes for many projects facing colossal risks are improper document management, time & cost overrun, poor risk assessment during pre-tender & execution stages, no or untimely risk mitigation.

In a large number of cases non-availability of contract specialists results in inability to act upon the projects legitimate claims which in turn leads to inactive justification/defence for counter claims.

Many a multiple adversities being met by the construction sector are economic pressure, owing to unsuitable estimations of quantities & cost calculations in EPC tenders, unviable bidding as a outcome of awesome competition to garner projects and to identify the claims during & after execution of work, non-availability qualified and experienced Project Management team at site etc. The relevance and necessitation of Ruky comes into forte against this challenging background.

The internal challenges can be curtailed at the project level with improvement in project planning, delivery and monitoring capabilities along with better risk management.
Ruky Capabilities

Pre Investment Study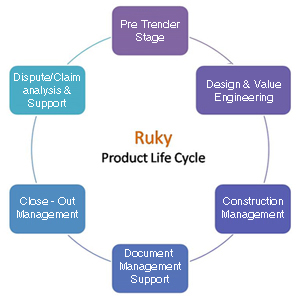 Pre bid advisory


Detailed Project Design (DPR)


Contract Administration


Project Execution Support


Procurement Planning


Project Commissioning


Construction and Operation Management


Construction Supervision


Issue Resolution


Quality Control & Safety Assurance


Project Close-Out advisary and Warranties Preparation