Message from the Managing Director
Having associated in the field of Infrastructure industry over 25 years, We understand the Indian Infrastructure Industry especially highway sector is passing through financial stress, due to numerous reasons, some are beyond the domain of infrastructure companies and some are self-inflicted like.
| | |
| --- | --- |
| | Failure to understand the new modes of contracts of DBFOT, BOT and EPC turnkey |
| | Unaware of risks involved and its mitigation measures |
| | Unhealthy competition in bidding the projects |
| | Stringent contract conditions leaving minimum scope for value Engineering |
| | Lack of experienced Value Engineering consultants in India |
| | Lack of experience or knowledge on contract provisions and execution difficulties to the new entrants. |
| | Improper EPC quantity &cost estimates and revenue estimates by the inexperienced consultants. |
| | Insufficient time given by the client for through study and preparation of bid & instead of release of projects in staggered, release of NIT in bundles. |
| | Unreasonable/aggressive bidding in the hunt for project procurement. |
| | Improper EPC quantity &cost estimates and revenue estimates by the inexperienced consultants which mislead the concessionaires and put them in turbulence.  |
| | Unsustainable losses due to time over run in project executions due to no fault of contractor / concessionaire's. |
| | Failure to identify the claims during & after execution of work. |
| | Unaware of concept of training ie. Training is not an additional cost it saves time cost wasted in trails and gives performance incentive to the project.  |
| | And many more….! |
| | |
RUKY is a consultancy beyond conventional consultancy services to turn the project towards better profitability.
At RUKY Projects, every client and project is valued. Our mission is to "Develop a 'smart' approach to delivering projects without cost and time overruns and we work to ensure our clients get the optimal outcome/better profitability". I believe we make a real difference to the success of our clients'projects.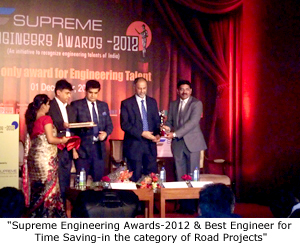 To achieve this RUKY Consulting provides the following major services to our clients:
Total Project Management support and advisory
Claim / Dispute Management support
Skill Development/Training
Project Risk analysis & mitigation
Value Engineering advisory – at all phases
Document Management control & retrieval System
Contract Management support - During execution

For development of the national infrastructure depends on strength of its stake holders, I personally commit to deliver the best professional advice possible to put our clients projects in better profitable position, along with a continuous commitment to technical excellence are central to our client service proposition. Whether RUKY plays a major or supporting role in a project, our goal is to ensure that project is successful and yields better profitability.

We are engineers, designers, contract specialists, planners, surveyors and project managers, but above all – we are a team dedicated to delivering smart outcomes for our clients.
C Ramanaiah
Managing Director